---
Here are three things we're working toward in 2020 to help them gain more power to lead.
---
We think 2020 is going to be our kind of year.
Maybe it's the optimism of a brand-new decade. Or maybe it's knowing that despite all the global uncertainty and unrest, humans are in a pretty good place, historically speaking. Today less than 10% of people live in extreme poverty, according to the World Bank—down from almost 36% just 30 years ago.
But it's more than that. For the first time ever, the global health community is shifting its gaze to a group of people we at IntraHealth International have been passionate about for 40 years now.
We're talking about nurses and midwives.
The World Health Organization has declared 2020 to be their year. Because as we get closer to our most ambitious global goals—nothing short of universal health coverage, an AIDS-free generation, and the end of extreme poverty—the global community has realized that nurses and midwives will be the ones to get us there.
They're the fuel that powers the engines of health care.
For decades, they've been undervalued, underestimated, overworked. But they care for clients like us from birth to death and everywhere in between. They make up 50% of the health workforce worldwide. In every city, every hospital, every village where they work, they're the fuel that powers the engines of health care.
So we're excited to see them in the limelight at last.
Here are three things we'll be working toward in 2020 to help nurses and midwives gain the power, authority, and resources they need to lead us all into the future of global health.
Gender equality at work
Most nurses and midwives are women. In fact, women make up 70% of the entire health and social care workforce around the world. Yet only 25% of health system leadership roles are held by women.
Last year, we and our partners surveyed 2,537 nurses and nurse-midwives from 117 countries to find out what hinders and helps nurses on their way to leadership roles. The resulting report—Investing in the Power of Nurse Leadership: What Will It Take?—sheds light on the gender-related barriers nurses face in rising to the top of their fields and what it will take to remove them. Respondents described widespread discrimination, bias, stereotyping, and sexual harassment.
"It's clear this isn't about the individual nurse who needs to be developed," said IntraHealth's Constance Newman at the report's launch event at Women Deliver 2019. "It's about the systems that need to be changed in order to raise the profile and improve the status and effectiveness of nurse leaders."
Also read: Global Survey Suggests Gender-Related Barriers Stifle the Leadership Potential of Nurses
In 2020, we'll be talking to more nurses and midwives on the front lines around the world and amplifying their voices, stories, and struggles. Check out the first webinar in our new series by IntraHealth, Johnson & Johnson, and Nursing Now on the gender-related barriers to and catalysts of nurse leadership. 
---
Resources
---
Stronger policies, more authority
When countries update their policies to give nurses and midwives more authority to use their full range of skills, we see big results. Namibia, for example, is closing in on HIV epidemic control in large part because nurses can now be certified to provide antiretroviral therapy (previously, if you needed these meds, only a physician could help you).
---
---
Also read: PrEP and Health Worker Training Are Protecting More Namibian Girls from HIV
This type of task-shifting and -sharing can revolutionize a health facility's services and make them more efficient and accessible.
Another example is Tanzania, where there's a shortage of physicians and surgeons. There's just not enough of them provide the specialized services only they are authorized to provide. At the same time, there's great demand for a simple surgery—voluntary medical male circumcision—that can reduce men's risk of acquiring HIV by up to 60%. Until just a few years ago, national policy stipulated that only physicians and surgeons could perform it.
So IntraHealth's ToharaPlus project worked with the Ministry of Health, Community Development, Gender, Elderly and Children to change policy and train nurses to provide the surgery. Now hundreds of nurses in Tanzania can perform the procedure. Thanks to them, the project helped provide related services to more than 450,000 men in Tanzania in 2019 alone.
---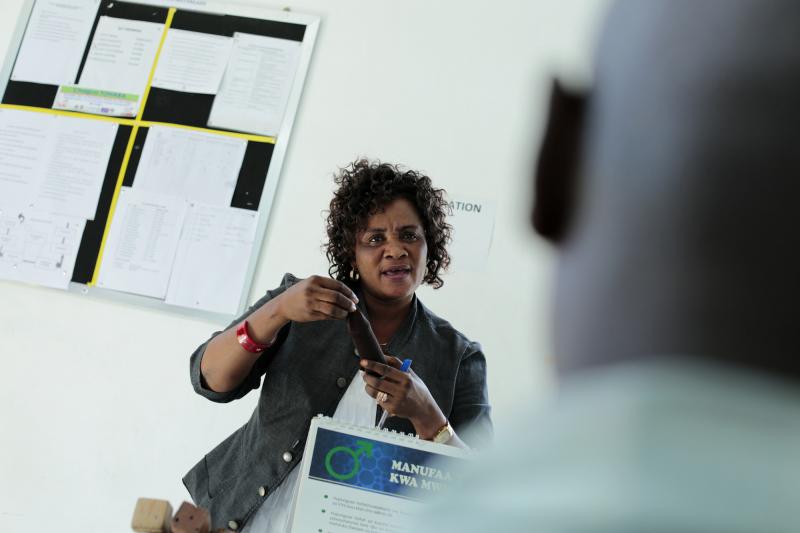 ---
Also read: Policy Changes in Tanzania and Beyond Unleash Full Power of Nurses
In 2020, we're working to make HIV care more sustainable in all the countries where we work. Through the US Agency for International Development's Accelerating Support to Advanced Local Partners (ASAP) project, for example, we're working with sub-Saharan African countries to rapidly prepare local organizations and government entities to serve as prime partners for USAID and US President's Emergency Plan for AIDS Relief (PEPFAR) programming, including by strengthening their capabilities and resources to address HIV within their populations.
Ongoing training for up-to-the-minute skills
For any of us to succeed at work, we need the right training and strong systems in place to help us get the job done—especially when lives are on the line.
The right training helps midwives like Fatou Mbaye stand between pregnant women and malaria in rural Senegal.
---
---
In Rwanda, it helped nurses like Esther Mukahabiyambere reduce severe pneumonia cases in children by 50%.
And at midwife Catherine Alinga's hospital in Uganda, where the survival rate for preterm babies had been under 10%, it helped her boost their survival rate to 100%.
In 2020, we're committed to training more nurses and midwives around the world. From Capitol Hill to the smallest local clinics, we're working with our partners to help nurses and midwives lead us into a healthier tomorrow.
Throughout 2020, we're celebrating nurses and midwives and pushing for changes that shift power and authority to them. You can get involved:
---