---
Many health workers in Senegal didn't know what hypertension was or how to treat it—until now.
---
Fatima* felt terrible. She was having headaches and dizziness, and she was so tired.
This went on for months. When she went to the local health facility in Podor—her tiny hometown in northern Senegal—they found that her blood pressure was high.
"Stop eating so much," the health worker told Fatima. "And don't eat late in the day."
Fatima followed this erroneous advice. She ate all her usual foods, but less, and she stopped eating anything after four o'clock in the afternoon. But she still felt awful. And on top of it, her hunger kept her awake at night. Eventually, her family sent her 480km away to Dakar, where they hoped she might get better care.
"Monitoring blood pressure has become a routine part of health care in developed nations," says Joseph Barboza, a physician in Senegal and director of IntraHealth International's work on Better Hearts Better Cities Dakar, a global initiative led and funded by the Novartis Foundation. "But this has not yet become a routine part of primary care in Senegal."
Most health workers in Dakar have never been trained on hypertension or given resources to treat, manage, or screen for it. This means that most people who seek care for hypertension are, like Fatima, already experiencing symptoms—and in danger of stroke, heart attack, or kidney failure, as hypertension is a precursor to all of these.
In Senegal, the World Health Organization estimates that 34% of all deaths are due to noncommunicable diseases like hypertension. The incidence of stroke has increased 46% since 1990 in sub-Saharan Africa and is now the fifth-leading cause of death in Senegal.
Training on how to address hypertension, though, has been sparse.
---
"When I was starting out as a young doctor here in Senegal, noncommunicable diseases were thought to be a thing for rich people," Barboza says. "It used to be infectious diseases like measles, malaria, and meningitis that brought people to the emergency room. Now most of those emergencies are caused by NCDs, usually hypertension. In some cities, the prevalence is as high as 40%."
The main culprit: diet, as well as inactivity, smoking, and alcohol abuse. Traditional foods made with convenient modern ingredients (such as bouillon powders and cubes) are extremely high in sodium, and many are also high in fat.
"Food is one of the big issues," Barboza says. "Yes, people in the cities have a more sedentary lifestyle than in the villages, but hypertension is affecting people equally in both urban and rural areas. And health workers who encounter it are often working from textbook knowledge they got years ago during school, which may have already been outdated even then."
Since it began in Dakar in 2017, Better Hearts Better Cities has helped train and provide supportive supervision to over 628 health workers across three districts in the city, including on hypertension care guidelines and data collection for health district team members, doctors, nurses, midwives, and community relays.
"We've developed a national protocol for managing patients with hypertension that's now being implemented here in Dakar, and soon that will scale up to nationwide use," Barboza says. "Now the goal is to train health workers across the country."
Door-to-door hypertension care in Dakar
Ngoné Sarr is a community relay in Dakar. Every day she sets out on foot to visit local households and share health information, provide screenings, and connect people to specialized health care when they need it.
"I've been doing this on the ground in the community for 22 years and I thought I knew everything about hypertension," Ngoné says. But last year, after a five-day training provided by Better Hearts Better Cities on how to properly identify and treat hypertension, she realized that she and her colleagues needed to change their approach.
---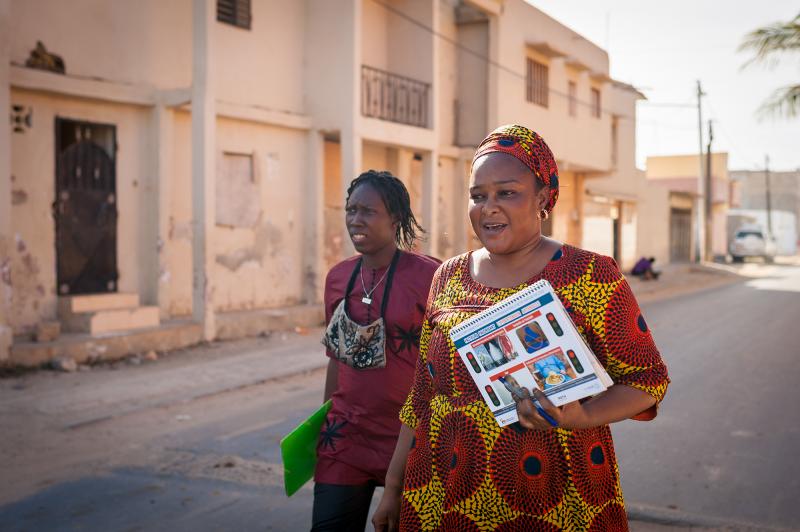 "Before the training, when clients had vertigo or other common symptoms, we didn't know hypertension could be a cause," she says. "We usually told them to take over-the-counter medicines to address it. And we knew about the effects of a poor diet, but we didn't know how to counteract them."
Today Ngoné and her community relay colleague Madjiguene Cissé walk to the home of Raki Wade, a 69-year-old client in the Ouakam village of Dakar. As Ngoné and Madjiguene unpack the blood pressure monitor, Wade jokes with them.
"I'm glad you're coming to my house to do this," she says. "We old people, we're lazy and we don't want to have to go to a health facility. So I find this very helpful."
Raki is in a higher-risk group—women are more often affected by hypertension than men in Senegal (26% vs. 22%), and hypertension's prevalence increases starkly with age (from 11% of women aged 18–29 to 57% of women 60–69).
Ngoné and her colleagues have been visiting this neighborhood for years, stopping at about five homes (some of which house 20 or so people) per day. Before the Better Hearts Better Cities training, they never offered this hypertension screening and counseling. Now Ngoné screens all her clients. If their blood pressure is up to 140/90, she writes them a referral to the local health center. Any higher, and she accompanies them there.
On an average day, she says, she refers 3-4 people.
Outside the city, high-quality hypertension care remains incredibly hard to find.
It was during one of these visits when Raki introduced Ngoné to a family friend, a woman named Fatima who was staying in their compound while she raised money to visit the nearby health center. Fatima's blood pressure that day was 180/90.
Ngoné's training helped her connect Fatima to medicine and insurance to finance her care. And she set the record straight about diet.
"You don't have to eat less," Ngoné told her. "Just eat different types of foods—more fruits and vegetables, and less salt. And get 30 minutes of physical activity every day."
Dakar is now one of the only places in Senegal that provides this level of care and accurate, timely advice for hypertension, thanks to Better Hearts Better Cities. Outside the city, high-quality hypertension care remains incredibly hard to find. The need for scaling up this service—particularly outside of the Better Hearts Better Cities current focus area of Dakar—is urgent.
Today, after Ngoné finishes with Raki, she checks in on Fatima to see how she's feeling after changing her diet and taking her meds regularly.
"I'm feeling great," Fatima tells her. "I'm sleeping well. I'm actually thinking of going back to my village."
Better Hearts Better Cities Dakar is led and funded by the Novartis Foundation. IntraHealth International partners with the Novartis Foundation, the Senegal Ministry of Health and Social Action, PATH, local health officials, community-based organizations, and other local stakeholders to implement this project and improve cardiac health among the population of Dakar.
*Not her real name.
---