---
They have the skills to lead multidisciplinary teams and improve health services for us all.
---
On a chilly morning in February 2020, Beth Wachire watches over her team at Mathare North Health Facility in Nairobi, Kenya.
As the deputy nurse-in-charge, Beth oversees 25 health workers—including 15 nurses and several community health workers.
Beth's team serves around 58,683 people in one of the largest slums in Nairobi. Despite resource limitations and other challenges, the team, Beth says, functions like a well-oiled machine as they provide essential health services, including family planning, safe delivery, and HIV prevention and treatment. Mutual respect is key.
"The way I interact with them, the way I hear them, the way I talk to them—I try to be part of them," she says. "I work with them in maternity, I mentor them. And for some, I continue education, like neonatal obstetric care. When they have an emergency, they call me and I help them."
---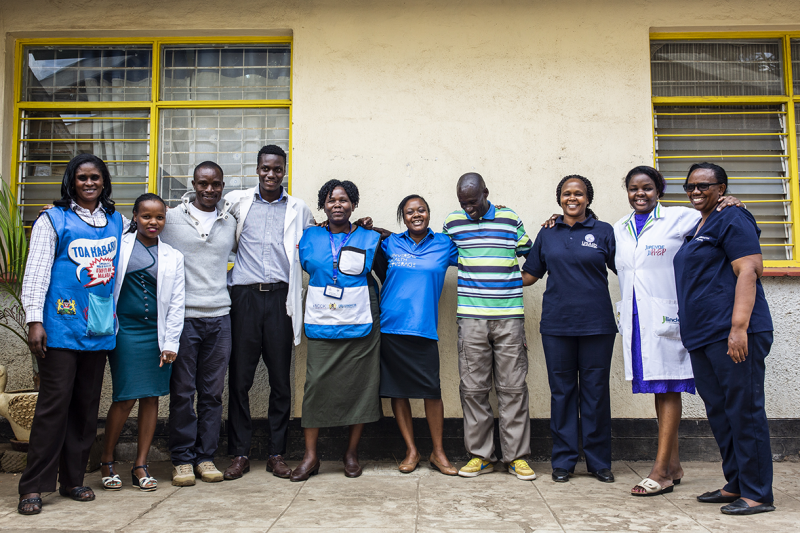 ---
With training and support for leadership, Beth is leading the team to make a big difference for the surrounding community, particularly for women.
More facility deliveries
When Beth first arrived at her post at Mathare North in 2013, the maternity ward was not fully operational, delivering only 20-30 babies per month. But through a leadership and development training program sponsored by USAID, Beth developed the skills to increase deliveries at the facility.
---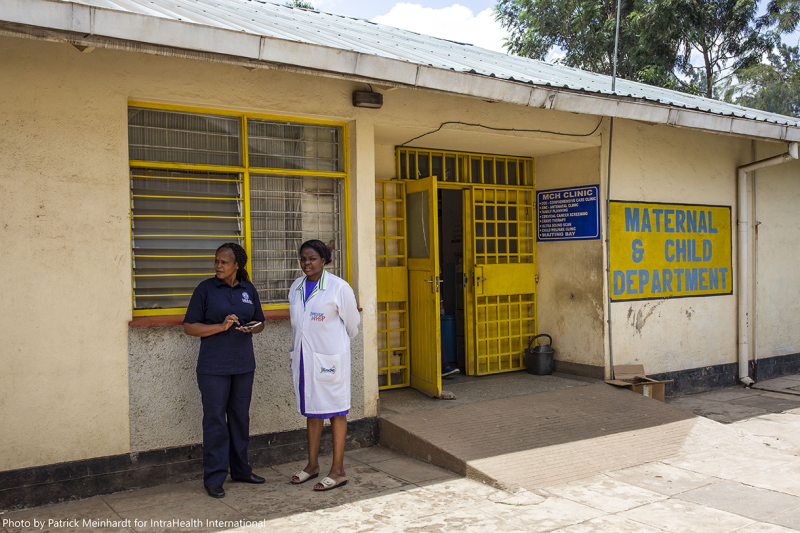 ---
"We educated women every day on the importance of delivering in the health facility," Beth says. "We worked with community health volunteers and community health assistants. We went out into the community and campaigned for mothers to deliver in the facility. By the end of the program, our team managed to deliver an average of 102 babies per month."
---
---
More choices for family planning
Beth and her team also expanded the types of contraception methods the facility offers.
"A few years ago, I went through a five-month comprehensive reproductive health course that was supported by Nairobi County," she says. "I was trained on long-acting family planning methods, so I'm now able to insert an IUD and an implant."
Now Beth mentors other nurses at the facility on these methods. Together the team at Mathare North Health Center provides family planning services to more than 700 clients every month.
---
---
It's a team
"We don't work alone as nurses," Beth says. "We work with other cadres. We work with the community of volunteers, the mentor mothers. They are the link between the community and the health facility. So we are a team."
---
---
Beth exemplifies nurse leadership. She spreads the credit and calls out the hard work of others to motivate the team to continue improving. She ensures her colleagues feel valued and that they have a role in the health outcomes of their community. And it shows in the team's success at Mathare North–in January, they delivered a record 105 babies.
Support more nurse leaders like Beth
"In Kenya, many people think nurses are doctors' assistants," Beth says. "And they don't know how much training a nurse undergoes. They don't know the skills that a nurse has."
Nurses like Beth have the skills to lead multidisciplinary teams of health workers, but health leaders and donors need to offer additional opportunities and empower nurses, especially women nurses, to become leaders.
"In a facility like this, most of the services are nursing services," Beth says. "We have antenatal services. We have family planning services, immunization services, maternity services. Here all those departments are run by nurses."
Nurses can be the answer to many of the world's health problems, but only if we remove persistent barriers, including for women and for young nurses, that are routinely put in their way and provide them with the correct support and training.
Women like Beth, Scholastica, Rachel, Florence, and Margaret make up at least 70% of the health workforce around the world, yet hold only 25% of health leadership positions.
This International Nurses Day, we urge you to take time and find out what nurses need to be leaders.
---
Resources
IntraHealth International, Johnson & Johnson, and Nursing Now explored gender-related barriers to nurse leadership. After conducting a survey of more than 2,500 nurses and midwives around the world, they found that nurses and midwives want more preparation for leadership, including leadership training and mentoring.
Here are a few recommendations based on the report:
Build nurses' self-confidence and sense of preparedness to assume leadership
Foster increased access to professional networks and mentoring
Identify nurses for national nurse leadership training and ensure that staff are able to participate without adverse impact on their job.
As part of IntraHealth's partnership with Johnson & Johnson to advance nurse leadership, we're highlighting stories of nurse leaders that we gathered on a trip to Kenya. See Big Changes Needed to Recruit and Retain Young Nurses, in Kenya and Beyond.
And throughout 2020: The Year of the Nurse and the Midwife, IntraHealth is a partner on the Nurses Lead | Midwives Lead campaign with Seed Global Health, the Frontline Health Workers Coalition, the G4 Alliance, Nursing Now, Partners in Health, and Smile Train. The campaign is raising the profile of nurses and midwives all year and calling for increased investment in the global nursing and midwifery workforce. Visit www.nursesandmidwiveslead.org to read, watch, and hear stories from nurses and midwives advancing care in communities across the globe, and use the #NursesLead hashtag to continue raising awareness.
Get stories from midwives and nurses around the world delivered right to your inbox: sign up for our mailing list.
And join the conversation: 
#NursesLead #VoiceToLead #IND2020 #HealthWorkersCount 
---