---
It's tough having no one to talk to. Peer mediators know what clients are going through and are connecting more of them to care.
---
Imagine you're young, smart, ambitious, poor. You dream of leaving your small town for the big city, where you'll go to medical school and enjoy a more open-minded atmosphere. You certainly have the brains for it and you've always loved helping people.
Now imagine you've just learned that you have a disease that will kill you if you don't get the right medicine and care. It will disrupt everything—you'll fall behind in school and have to trek to the hospital for meds every single month from now on.
And you can't tell anyone. If your family or friends or neighbors find out you have this disease, they might start asking questions about how you got it. You might be disowned, or even go to prison.
So what do you do when the diagnosis comes and all these thoughts are swirling through your mind?
We talk about how to handle my family, how to take my treatment in secret.
I can tell you what Youssef did (though we can't give you his real name). He walked out of the clinic in Kolda, Senegal, where he'd just tested positive for HIV, and went straight to the adolescent counseling center and then to the hospital, where he asked for treatment that same day. He stuck to his drug regimen so closely that his viral load was undetectable within six months. Two years later, it still is.
Today Youssef still lives with his family, but they still don't know that he lives with HIV or that he contracted it by having sex with another man. Fortunately, he has found some people to talk to.
A mentoring program designed by IntraHealth International's Neema project connects young men like Youssef with mediators—peer mentors who know exactly what they're going through. The program has helped him in a lot of ways, Youssef says.
---
"I can ask lots of different kinds of questions and always feel safe and comfortable with the idea that my privacy will be kept," Youssef says. "We talk about how to handle my family, how to take my treatment in secret. And there's a lot of proactive contact from them, checking in on me."
The program helps him feel less alone.
Senegal's HIV epidemic was never as widespread as in many other African countries. Most people in Senegal don't personally know anyone who lives with HIV. That's one thing that makes it tough to treat existing cases, health workers told us—a lot of people don't believe the disease is real.
---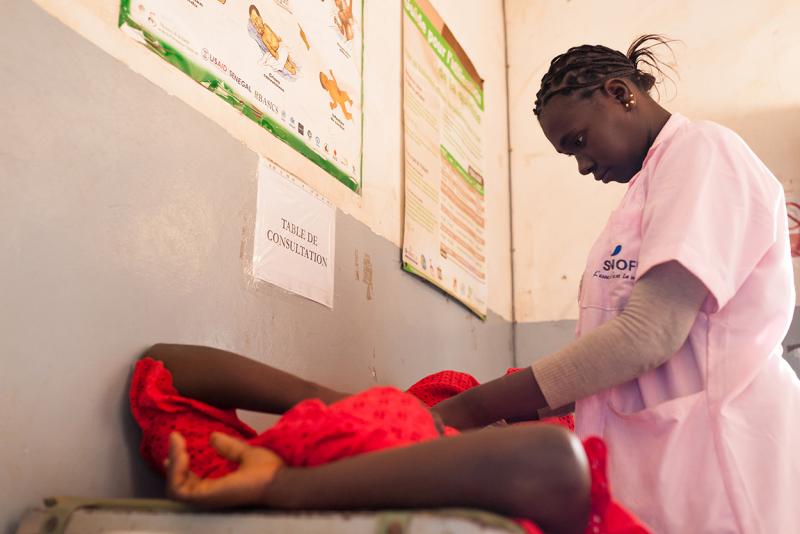 The good news is that testing and treatment have gone up over the last few years in Senegal, and HIV prevalence among the general population is low (0.4% in 2018).
But the rates are much higher among key populations—6% among sex workers, 9.2% among people who inject drugs, and 17.5% among men who have sex with men. According to Neema staff, one-third of people who live with HIV in Senegal still don't know their HIV status.
I think providing a friend for my peers is the best way I can help my community.
So IntraHealth works at four sites where members of these groups live in higher concentrations (Dakar, Pikine, Ziguinchor, and Mbour). The project works with local health workers and officials, Senegal's Alliance Nationale des Communautés pour la Santé (ANCS), and other partners to reach out to clients who may be afraid to come forward for HIV treatment and who, as a result, may have higher viral loads and be more likely to transmit the virus to others.
Oumar (again, not his real name) is one of these peer mediators. He told us about one client he worked with who'd been caught in bed with another man and got kicked out of his house. "He reminded me of myself, because my own story is similar."
---
When Oumar was 21, his father disowned him and kicked him out of the house. When his mother defended Oumar, the father kicked her out, too.
"I'm still close to my mother," Oumar says. "She's my confidant."
Having someone to talk to is invaluable, he says, and being that someone for others is what keeps him coming to work every day, despite the job's stress and emotional toll.
"I think providing a friend for my peers is the best way I can help my community," he says.
A lot of Oumar's clients are married men with children and itinerant merchants, all of whom are hard to reach with health services. Most come for services because of symptoms of other STDs. Mediators offer them counseling, connect them to services, and help them deal with health or personal emergencies—all with extreme attention to privacy and confidentiality.
Last year alone, Neema provided HIV testing and counseling to 2,719 individuals from key populations.
So far Neema has trained 142 health workers—including 60 mediators—to improve HIV care at four sites. Last year alone, they provided HIV testing and counseling to 2,719 individuals from key populations, including 1,456 men who have sex with men. One of the project's main goals is to provide antiretroviral meds to more people who live with HIV and help them stick to their treatment regimens as diligently as Youssef has.
Today, Youssef is on the right track. He's thoughtful, responsible, and about to graduate high school. But he still worries about his future. And he wants to keep others from going through what he has.
"If I could say anything to other young people in Senegal, it would be this," Youssef says. "Know that HIV is a real disease. Don't deny it. And always use a condom."
The IntraHealth-led Neema project, which is funded by the US Agency for International Development, is working to help Senegal reach its 90-90-90 goals for HIV by reducing stigma, improving health workers' abilities to meet the specific needs of key populations, supporting to the Division of AIDS/Sexually Transmitted Infection Control and the Network of People Living with HIV, and much more.
---