---
In just a year, home births in Bokhtar District have been cut in half.
---
"I delivered my oldest daughter at home," says Gulrukhsor Talbieva. "I'd never heard about the maternity hospital."  
Gulrukhsor Talbieva, now a 26-year-old mother of five, lives in Lohuti village in Tajikistan's remote Bokhtar district.
She also delivered her second baby, a son, at home and had a terrible headache that lasted for days. She didn't know it at the time, but she had eclampsia, a life-threatening condition.
"I'd never heard about the maternity hospital." 
"I thought that it is only natural to deliver at home," she says. "Also, in my village it's not good to tell about difficulties during the delivery. So, I put up with the pain."
Today, thanks to the USAID-funded Feed the Future Tajikistan Health and Nutrition Activity (or THNA), women like Gulrukhsor are learning about the risks of delivering at home and the benefits of giving birth in a prepared health facility with a skilled birth attendant.
High maternal mortality
Although great progress has been made in the last decade, Tajikistan still has a very high maternal mortality rate with 32 maternal deaths for every 100,000 live births.
THNA is partnering with hospitals, primary health care centers, and communities to address the "three delays" that contribute to maternal mortality. These include delays in seeking maternity care, reaching a health facility, and receiving high-quality care once at a facility. The activity focuses on 12 districts in the Khatlon Oblast, including Boktar district, where Gulrukhsor lives.
In Tajikistan, 32 mothers die for every 100,000 live births.
In 2016 THNA teamed up with the Ministry of Health and Social Protection of the Population to conduct in-depth assessments of 14 hospitals and found that many were chronically understaffed, underequipped, and short on medical supplies. They also suffered from poor quality control and managerial oversight and a lack of running water.
Interventions for mothers
THNA worked with the Bokhtar District Hospital to train its midwives, OB/GYNs, and other maternity ward staff on effective perinatal care—including new standards, how to manage complications, and kangaroo care, as well as Integrated Management of Childhood Illness—and provided supportive supervision for health workers and mentoring for facility managers.
The activity upgraded the hospital's maternity ward with new equipment and supplies, and worked with the hospital managers to improve quality of care. It also trained and mobilized more than 1,400 volunteer community health educators to teach women in their neighborhoods about proper prenatal care and when to go to the health facility.
Gulrukhsor and Zulfiya
Gulrukhsor also gave birth to her third child at home. This time she developed postpartum hemorrhage—there was no trained health worker and no prevention and management of bleeding. Gulrukhsor's husband took her to Bokhtar District Hospital, where she was transferred to the regional hospital for emergency obstetric care.
She delivered her fourth child in the district hospital. The maternity department was so cold and uncomfortable, especially for breastfeeding a new baby, that when the time came, Gulrukhsor decided to deliver her fifth child at home again.
1,400 community health educators teach women in their neighborhoods when to go to the health facility.
But Gulrukhsor's neighbor, Zulfiya, a volunteer community educator, often came to visit. She explained to Gulrukhsor and her husband that home births entail many risks, and that the district hospital has new equipment and its health workers are now ready to help women give birth safely.
New and improved
When Gulrukhsor arrived at Bokhtar District Hospital in November 2017, it was fully renovated and equipped. The windows were repaired to shut out the cold air, and everything was clean. There was even warm running water—the manager of the hospital had successfully advocated to the local governor to put running water in the facility.
"I was surprised. It really is better to deliver at the hospital."
And thanks to the new equipment, and the knowledge that the medical staff received during the trainings, Gulrukhsor had a safe labor and delivery.
"I was surprised," says Gulrukhsor. "It really is better to deliver at the hospital. Doctors, midwives, and the other health care staff take care of women and newborn babies every minute, checking blood pressure, helping when there is rupture of the uterus, or during bleeding. I have started to ask myself: How could I deliver children at home? How could I stand the pain and difficulties of childbirth?"
"Now I know why I had such a strong headache during home delivery of my second child—my blood pressure was high," she says. "I cannot believe that after delivery a woman can sleep and have a good rest. Now, here, I am sleeping and restoring myself."
Gulrukhsor stayed in the hospital for three days with her newborn child. All the while, the maternity ward staff was taking care of her. 
Data show big improvements
In just a year, the Bokhtar District Hospital has seen significant improvements.
The number of home births in the district decreased from 6.3% to 3.2%, perinatal mortality decreased from 21 to 16 (per 1,000 births), and postpartum hemorrhage decreased from 1.3% to 0.8%.
And Gulrukhsor and her new baby are healthy.
"I am so happy, and very grateful to Feed the Future Tajikistan Health and Nutrition Activity," she says. "I will suggest to all rural woman not to deliver at homes anymore."
IntraHealth International leads the USAID-funded Feed the Future Tajikistan Health & Nutrition Activity, and with its partner Abt Associates is working to improve health and nutrition in Tajikistan, particularly among women and children in the Khatlon oblast. The activity integrates high-quality maternal, newborn, and child health care at the family, community, clinical, and national levels, with an emphasis on nutrition, sanitation, and hygiene.
Several staff members for the Feed the Future Tajikistan Health & Nutrition Activity contributed reporting to this story. Special thanks to Dr. Tahmina Jaborova of Abt Associates, THNA clinical director. 
---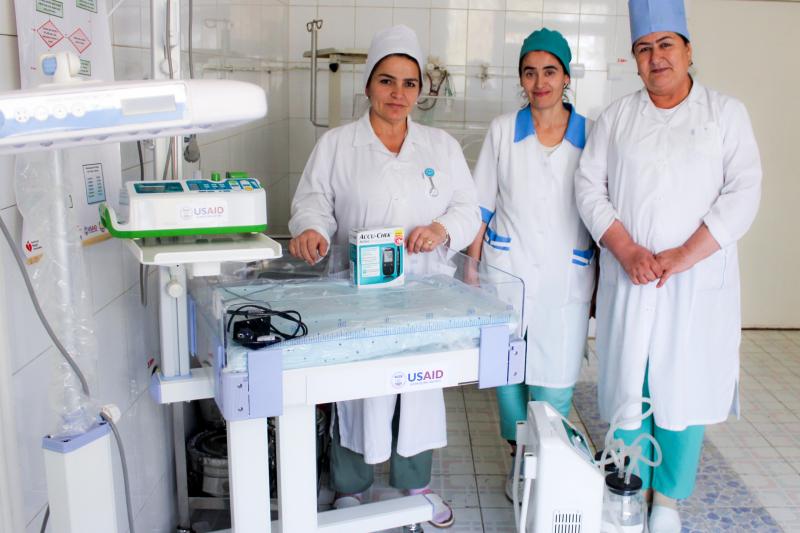 ---