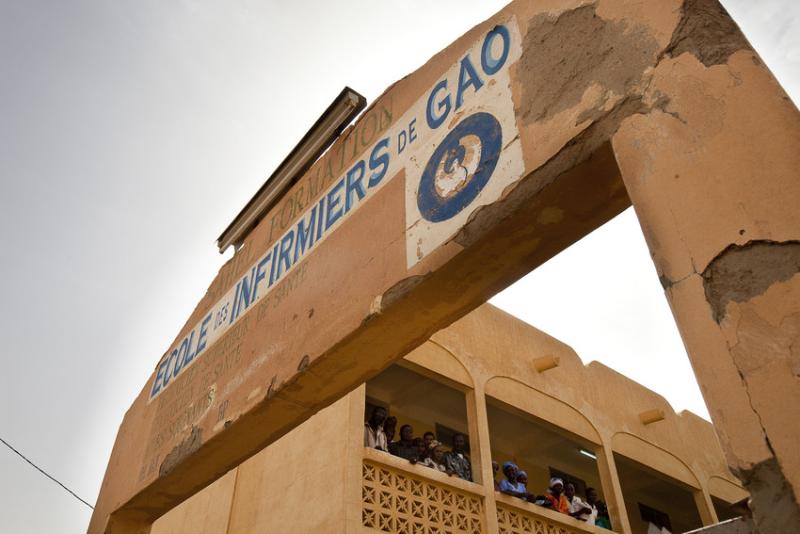 ---
Mali is currently experiencing the most severe crisis of its existence.
---
Mali is currently experiencing the most severe crisis of its existence. When heavily armed Tuareg rebels and Islamist rebel groups poured in from Libya on January 17, 2012, they quickly defeated the under-equipped, disorganized Malian army. Now they have seized the country's vast northern regions and are working to force sharia—or Islamic law—on the people there.
The most visible rebel chief is not Malian—he is from Pakistan—and he often appears on TV to say that sharia is good for Mali. That if Mali accepts Islamic law, the rebels will help the country to get funds from other Islamic countries.
We never thought something like this could happen in Mali. It still feels like a dream, like it's not reality.
The Malian army was—and still is—unable to fight these groups because of the violent military coup that took place on March 21 and 22, 2012. Not only did the coup oust Mali's democratically elected president, but it also destabilized our young democracy.
Northern Mali is very, very huge, a no-man's-land in the Sahara Desert. It is also suspected to be rich in oil and other minerals, which is one reason it was an attractive target for the rebels.
Even before the crisis began, there were not enough health providers to care for those who live scattered across northern Mali. And as the rebel groups approached the regions around Gao, Timbuktu, and Kidal, many of the health providers who were there fled.  
In 2006, IntraHealth began partnering with a nursing school in the northern city of Gao called the Ecole des Infirmiers de Gao. We wanted to strengthen the rural nursing school, to help it better prepare its students and produce more health workers for the northern region. It's difficult to draw health workers there from other parts of the country, but most of the students who graduate from the nursing school in Gao stay in the region because many of them grew up there. The USAID-funded CapacityPlus project introduced other strategies to keep graduates in the north, too, such as scholarships in exchange for five years' service in the region.
But then the rebels came.
Those Left Behind
It was a shock to us all when the rebels started looting the hospitals and health centers. In Gao, the rebels chased away the women and children who were being treated and claimed the hospital beds for their own.
When the rebels first attacked in Gao, people were scared. The hospital and nursing school closed down for a time. But some workers stayed, including many of the students at the nursing school.
"Because of the war, the health providers who originally came from the south all went back to Bamako and other southern cities," says one faculty member at the nursing school. "The providers who graduated or are currently trained in Gao are the only ones who stayed to help the population."
One student, a man we'll call Mohamed, explains: "I am from Gao, and I am currently studying at the Gao Nursing School. We did not have a choice. We could not just stand there and watch our family members die without doing anything."
The remaining health officials pleaded with the rebels, saying, "If you want to keep this part of the country working, you will need teachers, you will need doctors, you will need nurses to do the work. If you close all the schools, what will happen next?"
Eventually the rebels agreed. But they said, "We don't want to mix men and women in the same classroom. It cannot be allowed." So the school manager and faculty decided to reopen the Gao Nursing School, but they divided the classes so that men and women would not be in the same rooms. This makes it difficult to provide adequate training, though, because there aren't enough faculty members to cover the extra classes.
Under the new sharia laws, female students must cover themselves completely. The first time a rebel sees a woman's hair, he gives her a warning and a veil to cover her head. The second time, the woman is hit with a stick. The third time, she is jailed or even put to death.
The Islamist rebels have taken the hospital accountant, Ibrahima Diallo, prisoner. They accused him of embezzlement. In reality, Mr. Diallo refused to give 5 million francs (almost a third of the hospital's benefits) to the terrorist organization MUJAO (which stands for Movement for Unity and Jihad in West Africa). The accountant believes those funds should remain in the hospital in case of emergencies, but the rebels say the money is part of their administration. Mr. Diallo is now in prison and waiting for his sentence.
The rebels punish those who do wrong by cutting off arms and feet—usually in the public market. They kill men and women who have children before marriage, even if the parents had the children long before the rebels arrived. And when one man was accused of having sex with a woman without being married to her, the rebels buried him in the ground from the waist down and stoned him to death.  
We know these things are happening because the rebels post images and videos of the punishments online. They use Facebook and YouTube to tell the Malian people, "If you break the laws of sharia, this could happen to you."
So it is very difficult for the nursing students who stay. They go to classes in the morning, and then in the afternoon, they go to the hospital to fill in for the trained professionals who have left. They are quickly learning on the job how to deliver babies and perform C-sections and other surgeries.
The population in the northern region fell by half when the rebels came. People fled to the safety of southern Mali and to neighboring countries on all sides. And for those left behind, it's much more difficult to get health care now. The health facilities that have not been destroyed are generally insecure. Looting has led to the disappearance of ambulances, communications equipment, and medical supplies. Many pharmacies and medicine storage warehouses have been destroyed. Vaccinations and treatment for chronic conditions are in low supply, and many priority health programs for crucial areas (including maternal and child health, family planning, tuberculosis, HIV/AIDS, leprosy, and Guinea worm) have been suspended.
We in IntraHealth's Mali office spent a good deal of time with the students in Gao over the past few years and have gotten to know them personally through the training and scholarships we offer. We also know the health providers at the hospital because we worked together as part of the Fistula Care Project.  It is very difficult to see them in this situation. Before, it was very easy to support them, to send supervisors on a monthly basis, to send certified surgeons on a quarterly basis. But now that is impossible. IntraHealth cannot go freely to the north because the rebels will not allow anyone affiliated with the United States government to enter.
Now we can only send supplies with the Red Cross, or on public transportation. Some students in the south set up caravans to go to the north for a week at a time to try to help people there. They take food with them, and medicine when they can.
Every morning in my office in the southern Malian city of Bamako, I call the interim director of the hospital in Gao and the director of the nursing school to talk about what happened the day before. I ask, Did you get some medicine? How are things moving? How is your relationship with the rebels today? What kind of difficult cases do you have? What can we do to help?
We are dedicated to saving people's lives. So every day, when I hear that a woman has gone to the facility and died because the students have no drugs for her, it affects me very much. We want to be there to try to help them, so we do our best. But sometimes it is very, very difficult.
The student Mohamed's statement, though, comforts me.
It illustrates to me that USAID/Mali and IntraHealth made the right choice when we decided to support the Gao Nursing School. If we had not, this difficult time would be even worse for the northern population. There would be almost no trained health workers left there.
Mohamed and the other students and health workers who have decided to stay in the north are very courageous. They say it is their land. They do not want to flee like the others. They want to remain. And if they have to die, they say, they will die.
Read more:
---
Au nord du Mali, les étudiants en soins infirmiers apprennent vite car ils le doivent
Le Mali fait actuellement face à la plus grave crise de son histoire. Lorsque des rebelles touaregs  et des groupes islamistes lourdement armés ont afflué en provenance de la Lybie le 17 janvier 2012, ils sont rapidement venus à bout d'une armée malienne à la fois sous-équipée et désorganisée. Ils contrôlent à présent les vastes régions situées au nord du pays et tentent d'imposer par la force la charia (ou loi islamique) aux populations locales.
Le chef rebelle le plus visible n'est pas malien, mais pakistanais, et il apparaît fréquemment à la télévision pour affirmer que la charia est une bonne chose pour le Mali et que si le Mali accepte la loi islamique, les groupes rebelles aideront le pays à débloquer des fonds auprès d'autres pays islamiques.
Nous n'aurions jamais pu croire qu'une telle chose arriverait au Mali. C'est un peu comme un rêve, dans le sens ou tout cela semble irréel.
L'armée malienne était – et est toujours – incapable de combatte ces groupes en raison du violent coup d'État militaire survenu les 21 et 22 mars 2012. Ce coup d'État n'a pas seulement abouti à l'éviction du président démocratiquement élu, il a aussi déstabilisé une démocratie encore jeune.
Le nord du Mali couvre un territoire absolument gigantesque, un véritable no man's land au cœur du Sahara. Il est également supposé être riche en pétrole, ce qui explique en partie pourquoi il s'agit d'une cible privilégiée pour les rebelles.
Même avant le début de la crise, il n'y avait pas suffisamment de prestataires de soins pour s'occuper des populations disséminées à travers le nord du pays. Et au fur et à mesure que les rebelles se sont approchés des régions situées autour de Gao, Tombouctou et Kidal, bon nombre des agents de santé qui se trouvaient sur place se sont enfuis.
En 2006, IntraHealth a débuté un partenariat avec l'École des infirmiers de Gao, une ville située au nord. Notre désir était de renforcer cette école d'infirmiers en milieu rural pour l'aider à mieux préparer ses étudiants et à produire davantage de prestataires de soins pouvant dispenser leurs services dans cette région. Il est en effet difficile d'y attirer des agents de santé issus d'autres parties du territoire. Cependant, la plupart des étudiants diplômés de cet établissement demeurent dans la région, car beaucoup d'entre eux y ont grandi. Le projet CapacityPlus financé par l'USAID a également mis en place d'autres stratégies visant à maintenir ces diplômés en poste au nord du pays, notamment à travers l'octroi de bourses d'études en échange de cinq années de services dans la région.
Mais les rebelles sont arrivés.
Rester sur place, un choix courageux
Cela a été un choc pour nous de voir les rebelles commencer à piller les hôpitaux et les centres de santé. À Gao, ils même ont chassé les femmes et les enfants qui étaient traités pour leur prendre leur lit.
Quand les rebelles ont commencé à attaquer Gao, les gens étaient effrayés. L'hôpital et l'école d'infirmiers ont fermé pendant un certain temps. Mais quelques prestataires sont restés, notamment un grand nombre d'étudiants infirmiers.
« À cause de la guerre, les agents de santé originaires du sud sont tous repartis vers Bamako et d'autres villes dans cette région, » explique un enseignant de l'école d'infirmiers. « Les prestataires ayant déjà obtenu leur diplôme ou étant actuellement formés à Gao sont les seuls à être restés pour venir en aide à la population. »
Un étudiant, un homme que nous appellerons Mohamed, nous en dit davantage : « Je suis originaire de Gao et j'étudie actuellement à l'École des infirmiers. Nous n'avions pas le choix. Nous ne pouvions pas rester là et regarder les membres de notre famille mourir sans rien faire. »
Les responsables sanitaires restés sur place ont ainsi plaidé auprès des rebelles en leur disant que s'ils voulaient que cette partie du pays continue à fonctionner, ils auraient besoin d'enseignants, de médecins, et d'infirmières pour accomplir le travail. « Si vous fermez les écoles, qu'adviendra-t-il par la suite ? »
Les rebelles ont fini par accepter en ajoutant toutefois : « Nous ne voulons pas mélanger les hommes et les femmes dans les mêmes salles de classe. Nous ne pouvons pas autoriser cela. » Le responsable de l'école et le corps enseignant ont ainsi décidé de rouvrir l'École des infirmiers de Gao mais en divisant les classes de manière à ce que les hommes et les femmes ne soient pas dans les mêmes salles. Cela empêche malgré tout de dispenser une formation adéquate dans la mesure où il n'y a pas suffisamment d'enseignants pouvant assurer les cours supplémentaires.
Dans le cadre de l'application de la nouvelle charia, les étudiantes doivent se couvrir intégralement. La première fois qu'un rebelle voit les cheveux d'une femme, il lui lance un avertissement et lui donne un voile à porter. La deuxième fois, elle est battue à coups de bâton. La troisième fois, elle est emprisonnée, voire mise à mort.
Les rebelles islamistes ont emprisonné le comptable de l'hôpital, Ibrahima Diallo, en l'accusant de détournement de fonds. En réalité, M. Diallo a refusé de donner 5 millions de francs (soit près d'un tiers des bénéfices de l'hôpital) à l'organisation terroriste MUJAO. Le comptable pense que cet argent doit demeurer à l'hôpital en cas d'urgences mais les rebelles affirment de leur côté qu'il leur revient d'administrer ces fonds. M. Diallo est actuellement en prison et attend de connaître sa peine.
Les rebelles punissent les personnes enfreignant la loi en leur coupant les bras et les pieds, généralement sur la place publique. Ils tuent les hommes et les femmes ayant des enfants avant d'être mariés, même si les parents ont eu leurs enfants bien avant l'arrivée des rebelles. Et quand un homme a été accusé d'avoir eu des relations sexuelles avec une femme à laquelle il n'était pas marié, les rebelles l'ont enterré jusqu'à la taille avant de le lapider.
Nous savons que de telles choses se produisent car les rebelles publient des images et des vidéos de ces châtiments en ligne. Ils se servent de Facebook et de YouTube pour dire au peuple malien : « Voilà ce qui vous attend si vous enfreignez la charia. »
La situation est donc extrêmement difficile pour les étudiants au métier d'infirmier ayant décidé de rester. Ils vont en cours le matin avant de se rendre à l'hôpital l'après-midi pour remplacer les professionnels qualifiés étant partis. Ils apprennent rapidement et sur le tas à procéder aux accouchements et à pratiquer les césariennes et d'autres procédures chirurgicales.
La population de la région Nord a diminué de moitié lorsque les rebelles sont arrivés. Les habitants sont partis se réfugier au sud du Mali et dans les pays voisins de chaque côté du territoire. Pour les personnes restées sur place, il est à présent beaucoup plus difficile d'accéder aux services de santé. Les établissements sanitaires qui n'ont pas été détruits sont généralement peu sûrs. Les pillages ont en outre abouti à la disparition des ambulances, du matériel de communication et des fournitures médicales. Bon nombre de pharmacies et de dépôts de médicaments ont par ailleurs été détruits. Les vaccins et les traitements pour les maladies chroniques sont en faible quantité et un grand nombre de programmes de santé prioritaires dans des domaines cruciaux (notamment en matière de santé maternelle et infantile, de planification familiale, de lutte contre la tuberculose, le VIH/SIDA, la lèpre et le ver de Guinée) ont été suspendus.
Pour notre part, au bureau d'IntraHealth au Mali, nous avons passé beaucoup de temps avec les étudiants de Gao au cours de ces dernières années, et nous les connaissons personnellement à travers les formations ou le programme de bourse que nous leurs offrons. Nous connaissons aussi les prestataires de l'hôpital pour les avoir côtoyés à travers le projet Fistula Care  Il est très difficile pour nous de les voir dans une telle situation. Auparavant, il était très simple de les soutenir, d'envoyer des superviseurs chaque mois et des chirurgiens certifiés chaque trimestre. Mais désormais, tout cela est impossible. IntraHealth ne peut plus se déplacer librement vers le Nord dans la mesure où les rebelles interdisent à toute personne affiliée au gouvernement américain d'accéder à cette zone.
Désormais, nous ne pouvons envoyer des fournitures que par le biais de la Croix Rouge ou par l'intermédiaire des transports publics. Certains étudiants du Sud ont mis sur pied des caravanes pour se rendre au Nord durant une semaine afin d'aider les habitants de cette région. Quand ils le peuvent, ils emmènent avec eux des vivres et des médicaments.
Chaque matin, dans mon bureau de Bamako, j'appelle le directeur par intérim de l'hôpital de Gao ainsi que le directeur de l'école d'infirmiers pour parler des événements de la veille. Je leur demande s'ils ont reçu les médicaments, comment la situation évolue, quelle relation ils entretiennent avec les rebelles à l'heure actuelle, les cas difficiles auxquels ils sont confrontés, et ce que nous pouvons faire pour les aider.
Notre rôle consiste avant tout à sauver la vie des gens. Alors, chaque jour, lorsque j'entends qu'une femme s'est rendue dans un établissement sanitaire et qu'elle y est décédée car les étudiants ne disposaient pas des médicaments nécessaires, cela m'affecte terriblement. On a envie d'être là pour essayer de les aider. Alors nous faisons de notre mieux. Mais parfois, c'est très, très difficile.
La déclaration de Mohamed, un des étudiants, m'a néanmoins réconforté car elle démontre que l'USAID/Mali et IntraHealth ont pris la bonne décision en décidant d'apporter leur soutien à l'École des infirmiers de Gao. Si nous ne l'avions pas fait, cette période difficile aurait été encore plus compliquée pour les populations vivant au nord du pays. Il n'y aurait là-bas quasiment aucun prestataire de soins formés.
Mohamed et les autres étudiants ainsi que les agents de santé ayant décidé de rester sur place sont extrêmement courageux. Ils disent qu'il s'agit de leur terre et qu'ils ne veulent pas fuir comme les autres. Ils veulent demeurer là-bas. Et s'ils doivent mourir, disent-ils, ils mourront.
Read more:
---