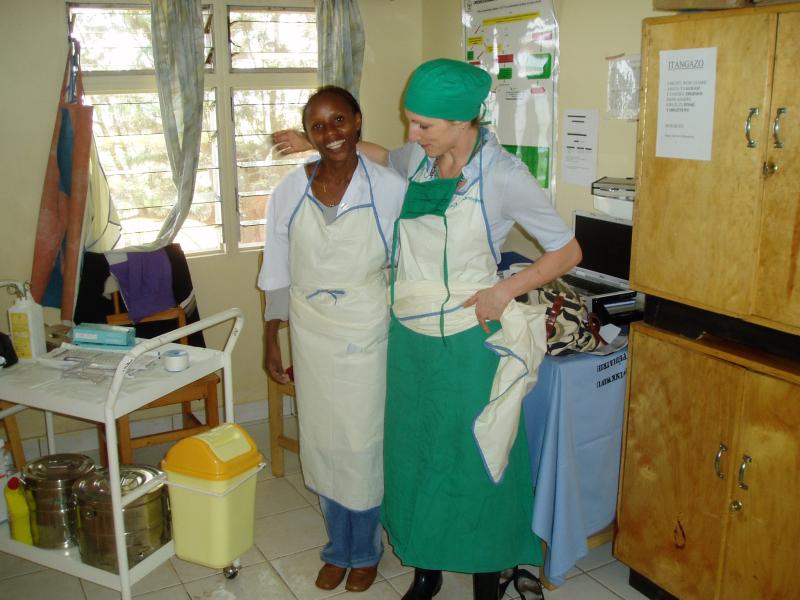 ---
It all comes down to a golden minute.
In those first 60 seconds after a baby enters the world, the tenor of her life rests in the hands of her deliverers. The care she receives will determine her ability to breathe and whether oxygen gets to her brain; it will determine whether she lives, dies, or has a disability. It is a moment when the term "deliverables" takes on a greater meaning.
For essential caregivers—whether they're physicians, midwives, or skilled birth attendants—training can mean the difference between life and death. Did they have lessons on neonatal resuscitation, temperature support, stimulation to breathe, or assisted ventilation? What happens to a struggling newborn if her caregivers are not trained in these essential skills? In that first minute, a health worker's education can shape not only the life of the child, but that of her family and community as well. According to UNICEF, newborn deaths represent approximately 60% of infant deaths worldwide. Moreover, close to 40% of the estimated 9.7 million deaths of children under five in 2012 were of newborns. The neonatal mortality rate in Uganda, for example, is 28 per 1,000 live births—seven times that of the United States.  
Without skilled nurses, our chances of improving neonatal mortality statistics are limited.
Such statistics underline the imperative to equip health professionals with neonatal resuscitation techniques, since these skills can radically improve the chance of newborn survival. I founded Seed Global Health to help create a sustainable solution to the severe shortage of skilled health care providers worldwide. We work in partnership with both the public and private sectors to enhance the training of local health professionals in the countries where we work. One of our current projects to prevent newborn asphyxiation in Uganda is a partnership with Mbarara School of Nursing, Healthy Babies Uganda, and Massachusetts General Hospital Center for Global Health. We send U.S. nurse educators to the Mbarara School of Nursing, where they partner with faculty for the year and offer hands-on training on newborn care and resuscitation, both in the classroom and at the bedside. The idea is simple: if our nurse educators teach 200 nursing students, then those 200 will not only be more skilled in their clinical practice, but they can each also become local educators to teach the next generation of Ugandan nurses.
The ripple effect from each educator can be enormous—and the consequences of improved health care delivery can be the difference between life and death today and in the future of a country tomorrow. People are at the heart of a health system. Without skilled nurses, our chances of improving neonatal mortality statistics in Uganda—or elsewhere—are limited. Investing in training 200 nurse educators today can lead to better health care delivery, result in a lower rate of neonatal mortality, and strengthen Uganda's health system. Building a larger cadre of well-educated nurses is essential to the future of neonatal health in Uganda and around the world.
Learn more about and get involved with Seed Global Health's partner initiative to train 200 nurses at Mbarara School of Nursing. If you have any questions—or are interested in Seed Global Health's other health care professional education projects, such as the Global Health Service Partnership, a joint program with the Peace Corps—please email info@seedglobalhealth.org.
Photos
---