---
Two midwives. A hundred moms and pregnant women per day. Here's how they do it—despite the pandemic.
---
By March 2020, most countries around the world had shut down. The COVID-19 pandemic was rapidly spreading and, in Uganda, only a few essential health services could be provided due to pandemic restrictions.
Even before the global pandemic, many women and girls struggled to access high-quality maternal health services. The COVID-19 lockdowns made the situation much worse. But women at one health center in Eastern Uganda quickly adapted to help provide health services to mothers.
Safe maternity care—despite the pandemic
Many of the leading causes of maternal and newborn death—coupled with a growing number of COVID-19 cases—have left many women of reproductive age in the region traumatized and at risk of disease or death. Amid these challenges, the Ugandan government has continued to implement health programs to ensure women and girls can continue to access lifesaving services. IntraHealth International's Regional Health Integration to Enhance Services in Eastern Uganda (RHITES-E) project joined national efforts to help prevent the spread of COVID-19 at district, health facility, and community levels while also ensuring women and girls could get the services they needed.
When COVID-19 began to spread, RHITES-E participated in district taskforce meetings and directly supported health facilities to quickly adapt, ensuring almost no disruption of available maternal health services. But mothers stopped coming to the health centers for fear of contracting the disease. Services increased after a presidential directive that mothers continue traveling to health centers—but adherence to COVID-19 prevention procedures, such as wearing masks, did not. This put health workers' lives at risk.
"We educate mothers on COVID-19 standard operating procedures."
Catherine, an enrolled midwife who works at Ochero Health Center III in Kaberamaido, had to quickly learn how to continue providing high-quality maternal and child health services to mothers who came to the health center, particularly for antenatal care (ANC).
''Many mothers come to the health center without masks, which puts us at risk of COVID-19," Catherine says. "We cannot send these mothers away, so we educate them on COVID-19 standard operating procedures, such as social distancing, hand washing, and wearing masks."
Following COVID-19 prevention trainings, RHITES-E assessed over 211 health facilities and found progressive improvement in key COVID-19 prevention practices—but found a shortage of personal protective equipment and inconsistent use by staff, which increased their risk of infection.
And while the government provided masks to the general population, USAID RHITES-E has helped address the equipment shortage among health workers by providing them with masks and hand-washing facilities to keep them safe.
A series of quality-improvement projects conducted by RHITES-E ensured a sustained inflow of pregnant women attending ANC classes. Data-driven mentorships and community interventions by volunteer health trainers—such as identifying pregnant women during home visits using a pregnancy checklist and tracking referrals—kept demand high at health facilities.
Ultimately, early detection of pregnancies improved at outpatient departments and other entry points. And mentorship teams reorganized clinic flows to help link pregnant mothers to ANC. RHITES-E saw a marked increase in the proportion of mothers attending ANC in their first trimester from 29% in 2019 to 41% in 2020, with four districts surpassing the 51% national target.
And the increase in first-trimester ANC visits resulted in an overall increase in women coming in for their fourth ANC visits, which both helped improve respectful care for the woman and family and male engagement.
"I feel comfortable coming here to get health services."
Vicky Agejo, the 19-year-old mother of three-month-old Ekayu Bernard, is happy with the maternal and child health services she received at the health facility. "The midwife is very friendly, and I feel comfortable coming here with my baby to get health services," Vicky says. "The client flow moves quickly and if there are delays, the midwife comes over and talks to us to reassure us that we will be served."
---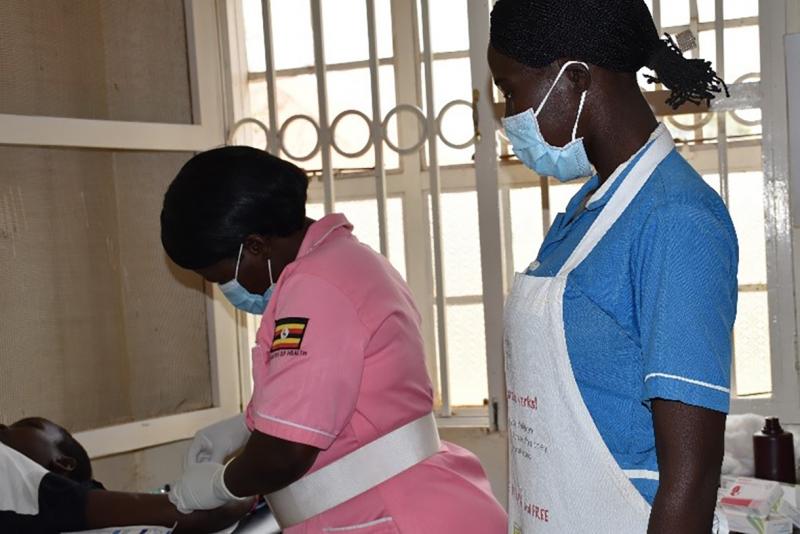 Greater demand for family planning
With increasing COVID-19 pandemic risks, family planning services have also been in high demand—more mothers are opting for long-acting reversible contraception.
Esther, an enrolled nurse at the health center, says she receives over 40 clients each month seeking family planning services.
"Most clients want long-acting reversible contraception and range between the ages of 19 and 26," Esther says. "They are young mothers and mostly on antiretroviral therapy who may prefer not to have many children."
The frontline health workers at this facility continue to encounter challenges. Their reputation for excellent customer care and high-quality health services has drawn more new clients from outside the health center's service area, which has overwhelmed the understaffed team.
"We are only two midwives providing ANC, delivery, and postnatal services."
"We receive about 200 clients a day, 100 of whom are mainly expectant mothers," Esther says. "Being a high-volume health facility can be tough because we cannot turn clients away. But we are only two midwives providing ANC, delivery, and postnatal services, including family planning and immunizations. The work load is heavy and we sometimes need extra hands, especially on peak days."
In the meantime, the two midwives continue to do their best, working in rotation and lobbying the local district leadership to recruit an additional enrolled midwife. Amid this pandemic, they are focused on continuing to deliver high-quality health services—and they continue to hope for better days.
The Regional Health Integration to Enhance Services in Eastern Uganda (RHITES-East) program is led by IntraHealth International and funded by the US Agency for International Development.
---