More than 400 boda boda (or motorcycle taxi) drivers gathered in Kahama town, Tanzania, last month to learn about motorcycle safety and male circumcision—a public health one-two punch delivered by IntraHealth International's Tanzania HIV Prevention Project. For two weeks, project staff provided medical male circumcision services to attendees and, in collaboration with the local police force and hospital, conducted road safety and first aid orientations.
Voluntary medical male circumcision reduces men's risk of heterosexually acquired HIV infection by about 60%, according to the World Health Organization. That's good news in Tanzania, where 1.4 million people live with HIV and the national prevalence rate is 5.1%.
"Boda boda drivers are a key demographic in our efforts to lower the number of HIV infections in Shinyanga Region," says IntraHealth's Lucy Mphuru, director of the project. "These men have not been reached by any organization with health messages in the past, though many are at high risk for HIV. And their jobs keep them so busy that they often do not have time to seek out health services such as medical circumcision." 
The boda boda riders in Kahama have formed a registered union called UDAPI. They have an office in town and meet regularly, per the rules of UDAPI's constitution. Most have primary or secondary educations, and fall into the age group of men who can most benefit from male circumcision's HIV-preventing advantages—10-29 years.
IntraHealth staff knew that not only would the boda boda drivers benefit from the event, but they would also have the power to influence their peers and younger boys to do the same. The drivers' motorcycles and year-round income—unusual in Kahama, where many livelihoods are based on seasonal farm work—make the boda boda drivers popular in the community. Many younger boys look up to them.
Through the two-day event on March 12-13, IntraHealth worked to raise awareness and demand for voluntary medical male circumcision services in Shinyanga, to persuade local boda boda operators to educate their peers and customers about safety and health services, and to bring local and national media attention to the project's male circumcision campaign.
And it was a great success. Over the course of the event and in the weeks following, project staff helped provide circumcision services to 474 men and boys, as well HIV testing and counseling, and screening for other sexually transmitted infections.
Well-known Tanzanian comedian Emmanuel Mgaya (also known as Massanja Mkandamizaji) performed for the crowd and told his story of undergoing medical circumcision as an adult. Local police provided traffic safety tips. IntraHealth staff distributed first aid kits and staff from the local Kahama District Hospital taught drivers how to use them in the event of a road accident, including how to avoid coming into contact with others' blood—all very useful information, given that road injuries are one of the top five causes of death for children and young people in Tanzania, and the number one killer of young men in their twenties.
Project staff also gave participants motorcycle helmets and safety reflector jackets emblazoned with the message, "Pata tohara ya Mwanaume, punguza uwezekano wa kuambukizwa VVU"—"Get circumcised and reduce the chances of getting HIV."
IntraHealth partnered with UDAPI, the Shinyanga regional health management team, the Kahama Council HIV/AIDS coordinator, the Kahama Town Council, the Kahama traffic police, and the Kahama District Commissioner for this event. The Tanzania HIV Prevention Project is funded by the US Centers for Disease Control.
Local press coverage:
Related items:
---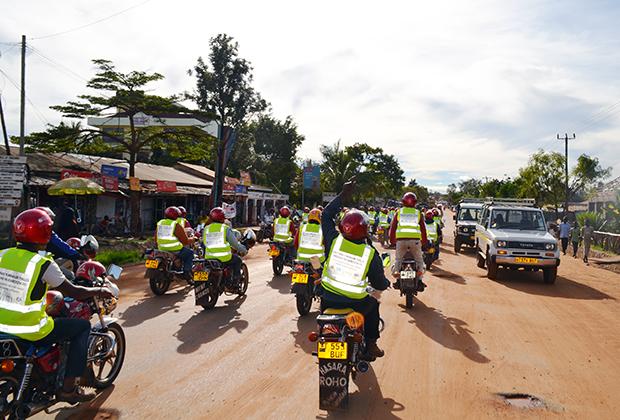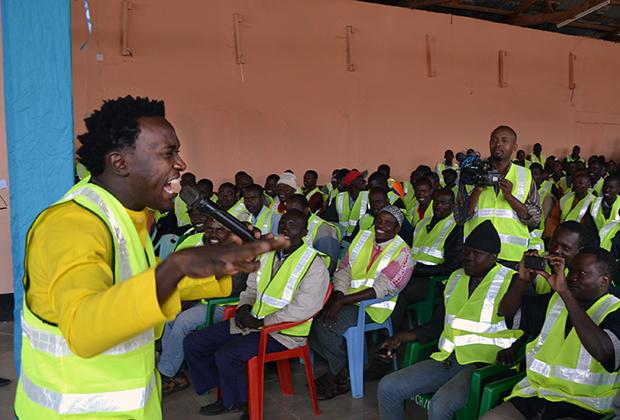 ---