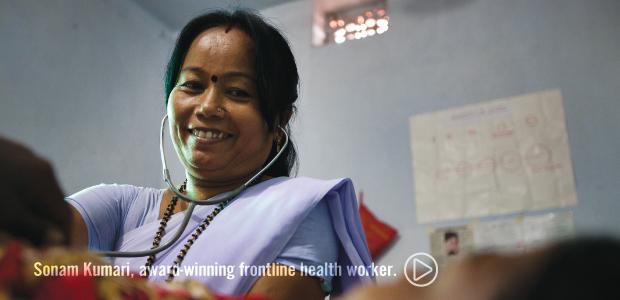 Scaling up access to skilled care during the delivery and postpartum period can be a game-changer in the developing world's continuing battle against maternal and infant mortality. In India's state of Jharkhand—a state grappling with significantly higher rates of maternal deaths  than the national average1—skilled birth attendants trained on handling normal deliveries, recognizing complications beyond their capacity, and referring mothers for emergency care are changing and saving lives.
Through the Vistaar Project, IntraHealth works with the state government of Jharkhand to upgrade the skills of auxiliary nurse midwives (ANMs) so they can become certified skilled birth attendants (SBAs). ANMs are frontline health workers responsible for providing care in some of the most underserved, rural villages in India. Vistaar assists the government to improve the quality of the training ANMs receive, reinforce the retention of skills post-training, and promote supportive supervision and adequate essential supplies at the ANMs' health facilities.
The training and support have boosted these frontline health workers' confidence and performance with newly trained SBAs conducting more deliveries on average in the months post-training compared to pre-training: from an average of 3.6 deliveries2 during October 2009–March 2010 to 17.7 in October 2010–March 20113. Almost all newly trained SBAs now report practicing critical maternal life-saving interventions and essential newborn care services, such as early initiation of breastfeeding within an hour of birth (97%) and drying and wrapping the baby to prevent hypothermia (98%), in all the deliveries that they conduct.4 
These health workers are the unsung heroes in the difficult battle against maternal and infant mortality.
Meet Sonam Kumari, Award-Winning Frontline Health Worker

One health worker making an undeniable difference in the lives of women is Sonam Kumari, an ANM/SBA posted in a health center in Hazaribagh District of Jharkhand, who participated in the Government SBA training program, supported by Vistaar. Before the July 2010 training, although qualified as an ANM, Sonam had not conducted a single delivery because she wasn't confident enough or aware of how to conduct a safe delivery. "I was trembling when I delivered the first child [in July 2010]. I couldn't believe I had done it…I delivered sweets to the entire village to celebrate," she said.

With 201 deliveries as of March 2012 and the proven ability to identify and handle or refer complicated deliveries, Sonam has evolved from an unsure and shy health worker into a well-respected and life-saving member of her community.

I was trembling when I delivered the first child. I couldn't believe I had done it…I delivered sweets to the entire village to celebrate.
                —Sonam Kumari



Beyond imparting necessary skills for safe deliveries, the program, which included the initial training, performance feedback, and on-going supervisory support, also motivated her to advocate for changes to ensure that the health center where she is posted is equipped to handle deliveries. The health center, which previously lacked electricity, water, and adequate supplies, is now a fully functional 24/7 unit, with a well-equipped and clean labor room, thanks to Sonam's efforts.
 

 

 
Sonam goes the extra mile to be on call 24 hours a day for the community; she is available at the health facility during her duty hours, and her residence is just five kilometers away. She reaches out to the women in her catchment area, makes home visits, and counsels women on topics ranging from family planning, adolescent health, and hygiene to nutrition. Unsurprisingly, Sonam enjoys a high degree of respect and goodwill within the community.
Her stellar performance has not gone unnoticed: Sonam, along with Shashi Sewati Kujur, an A-grade staff nurse from Gumla District5, Jharkhand, shared the National Award for Best Performing ANM from the Ministry of Health and Family Welfare, Government of India, at a high-profile consultation on "Ensuring Quality Services for Safe Motherhood" in commemoration of National Safe Motherhood Day in April 2012.
Given the alarming deficit of skilled health workers worldwide, it is of paramount importance to recognize and appreciate the critical role of frontline health workers like Sonam and Shashi in saving lives, facilitate their professional growth, and motivate them to sustain their high level of performance.
The Vistaar Project is led by IntraHealth International and funded by the United States Agency for International Development. This feature was contributed by Aishwarya Pillai, Technical Advisor for Publications, Documentation and Advocacy, Vistaar Project, IntraHealth International.
---
1. 312/100,000 live births(Jharkhand) vs. 254/100,000 live births (India)
2. Institutional and home deliveries
3. The Vistaar Project monitoring data (Oct 2009 - Mar 2011) collected from SBAs by medical officers in 14 districts of Jharkhand
4. The Vistaar Project baseline survey (Nov-Dec 2008) and monitoring data (Oct 2009 - Mar 2011) collected from SBAs by the medical officers in 14 districts of Jharkhand
5. The Vistaar Project provides technical assistance to the state government in improving skilled birth attendance in both Gumla and Hazaribagh districts, along with 12 other districts in Jharkhand.