The World Health Organization (WHO) has approved a five-year plan to massively scale up education and training for health workers in low-income countries, thanks in part to intensive advocacy efforts by IntraHealth International and the Frontline Health Workers Coalition.
The announcement on May 25, during the 70th World Health Assembly, set in motion a plan to avert the projected global shortfall of 18 million health workers that could occur by 2030—and to improve global health and create jobs in the process. Delegates from 194 Member States agreed that more of their governments will make financial commitments to their health workforces; many will make these pledges at the upcoming Fourth Global Forum on Human Resources for Health in November.
The Working for Health plan is an unprecedented milestone for the global human resources for health movement, and comes just one year after the WHO adopted the first-ever global health workforce strategy, Workforce 2030.
The UN Secretary-General's High Level Commission on Health Employment and Economic Growth created the plan based on its findings that the global demand for health workers will double by 2030, leading to a potential shortfall of 18 million health and social service workers, primarily in low- and middle-income countries.
"Our hope of achieving the Sustainable Development Goals—and especially for achieving universal health coverage—lies with health workers," says Laura Hoemeke, director of communications and advocacy at IntraHealth. "Primary health care—from saving women's and children's lives to ensuring safe surgery for all—requires qualified people in every component of every health system. We commend the WHO for taking this step, and we at IntraHealth are eager to make this vision a reality so that everyone everywhere can have access to the health care they need to thrive."
IntraHealth advocated for greater focus on the health workforce leading up to and throughout the 70th World Health Assembly, including by cosponsoring the following events:
Unsung Heroines of Health: Celebration of Women in Global Health: The women featured here included Ugandan nurse Samalie Kitooleko, who works tirelessly to ensure her clients with rheumatic heart disease have the financial and social support they need to effectively maintain their treatment.
Against All Odds: Strengthening Health Systems to Better Serve Vulnerable Women and Children: As part of a panel exploring health systems in complex and post-conflict settings, Samalie Kitooleko shared about her role in client advocacy to better serve vulnerable women and children. Samalie is a participant in IntraHealth's project with Medtronic Foundation to train frontline health workers on storytelling for advocacy.
Access to Diabetes Medicines and Care in Underserved Populations: Patient, Health Worker, Government, and Multi-Lateral Perspectives on Policy: Dr. Sanele Madela of South Africa shared a physician's perspective.
Innovative Financing Solutions for Health System Strengthening in Emerging Markets: IntraHealth's vice president of health systems innovations Kate Tulenko outlined that data, supply chains, and the health workforce are key pillars of care that require public-private investment.
Community Health Workers as Catalysts in the Implementation of the Recommendations by the High-Level Commission on Health Employment and Economic Growth: Amref Health Africa and IntraHealth cosponsored this event on the crucial role of community health workers in universal health coverage and celebrate the newly launched Global Health Workforce Network.
Health Workers Count: Cosponsored by IntraHealth and the Frontline Health Workers Coalition, this event celebrated the global momentum toward greater investment in the health workforce worldwide.
More about IntraHealth at the World Health Assembly.
---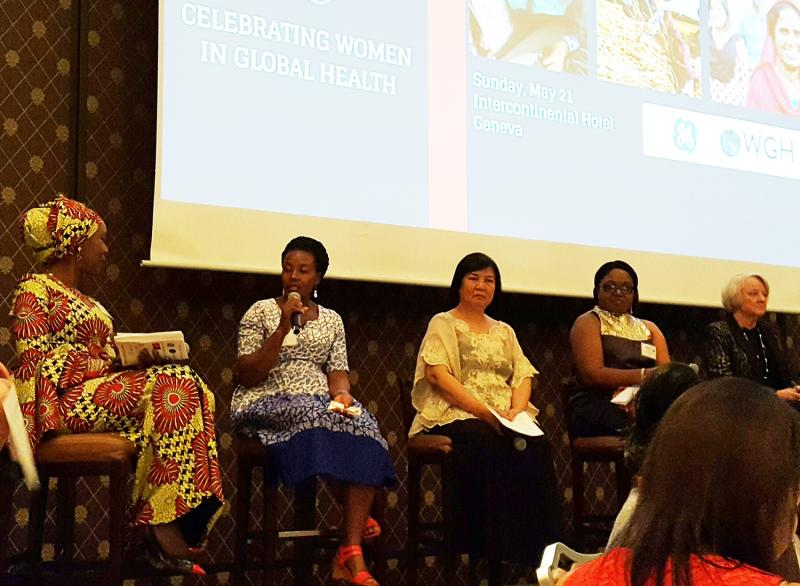 ---