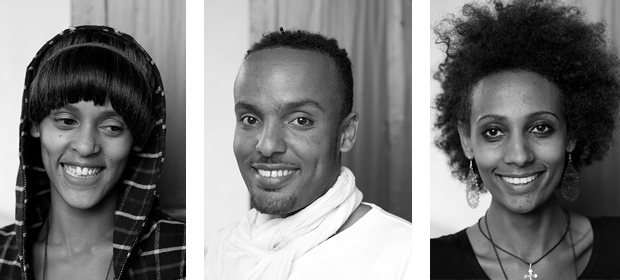 When they first got together in June 2013, they were 20 shy Ethiopian teens and twenty-somethings. Now, the shyness is gone. They've transformed themselves into beat makers, composers, burgeoning artists and activists who know how to use their voices and technology to make music that matters.
And the topic they're setting to music is close to our hearts here at IntraHealth International: family planning. Or more appropriately, future planning.
IntraHealth is collaborating with the Beat Making Lab to engage young people like those in Addis Ababa, Ethiopia, in an aspect of global health that affects not only individuals, but the entire international community. Across the globe, 222 million women have an unmet need for family planning services. By talking about the issues and teaching young people to make music using the beat making lab equipment—all of which can fit into a backpack—we hope to empower them to plan their own healthy, productive futures, and to teach others as well.
Of the 7 billion people on the planet today, more than half of us are under the age of 25. It's crucial that young people be part of the solution to making family and future planning services more available. In fact, they ought to lead the conversation.
Check out how Gelila and her friends are doing just that, thanks to their new skills and a whole lot of help from the Beat Making Lab:
Videos | Beat Making blog posts | Press
---
VIDEOS:
Episode 1


Episode 2


Episode 3


Episode 4


Episode 5


Episode 6


Beat Making & Future Planning
---
---
From PRI's The World:
Week 1: And the Beat Making Lab goes on, to Ethiopia
Week 2: What happens when you mix culture, talent, health and passion? Music.
Week 3: Can you mix a masinko and a soccer game chant into a beat?
Week 4: Rap? Meh. Poetry is the rage at the Ethiopian Beat Making Lab
Week 5: How do you say hello when no one speaks the same language?
Week 6: Pitch your beat to the Beat Making Lab and join Marco and The World's staff as they dance Azonto
Week 7: A return to Ethiopia rekindles the spirit of the Beat Making Lab
Ethiopia Herald
Mad Decent
MTV
Newsle
OkayPlayer
One.org
Soundcloud
Vice
Wall St Journal
---
Some of this series was made possible with support from the Packard Foundation.